Bacteria:
Genus
Species
Strain
Proteome
Coverage
Borrelia
afzelii
Isolate B023
94%
Borrelia
burgdorferi
B31
96.5%
Borrelia
garinii
Fuji
98.2%
Brucella
melitensis
Bv. 1 strain 16M
99.5%
Brucella
abortus, canis, ovis, suis
various
646 species-specific proteins
Burkholderia
pseudomallei
K96243 (majority), Bp576a, MSHR376b
In progress
Campylobacter
jejuni
NCTC11168
178 proteins
Chlamydia
muridarum
Nigg
100%
Chlamydia
trachomatis
D/UW-3/CX
100%
Escherichia
coli
Pan-genomic array, 98 ETEC isolates
5,110 proteins
Escherichia
coli
EHEC, EPEC, EIEC, EAEC, ExPEC – specific
~2,200 proteins
Franciscella
tularensis
SCHU S4
95%
Group B Streptococcus
2603 V/R
90 proteins
Leptospira
interrogans
Serovar Copenhageni, strain Fiocruz L1-130
94%
Mycobacterium
tuberculosis
H37Rv
96%
Neisseria
gonorrhoeae
various
509 proteins
Neisseria
meningitidis
various (core genome)
ongoing
Salmonella
enterica Typhi
Ty2
98%
Shigella
boydii, dysenteriae, flexneri, sonnei
Pan-Shigella (based on sequence of ~500 isolates)
Conserved core Shigella genome (~3,300 proteins)
Staphylococcus
aureus (MRSA)
USA300
90.3%
Streptococcus
pneumoniae
Pan-genomic (based on sequence of ~600 isolates)
98%
(variable gene diversity)
Treponema
pallidum, subspies pallidum
Nichols
99%
Virus:
Name
Serotype
Strain
Proteome
Coverage
Chikungunya
06-049
100%
Dengue
Type 1
Type1/Hawaii VR1254
91%
Dengue
Type 2
Type2/New Guinea C
100%
Dengue
Type 3
Type3/H87-3
100%
Dengue
Type 4
Type4/H241
100%
EBV
Varies
195 proteins
HIV
1
9 subtypes
82%
HIV
2
2 subtypes
96%
Human Adenovirus
40
strain Dugan
100%
Human Adenovirus
41
Strain Tak
100%
Human Coronavirus
229E
ATCC VR-740D
100%
Human Coronavirus
HKU1
HKU1
100%
Human Coronavirus
NL63
Amsterdam I
100%
Human Coronavirus
OC43
ATCC VR-1558
92.6%
HPV
9 types
83%
Herpes simplex Virus
1
93%
Herpes simplex Virus
2
84%
Influenza
A
A/California/04/2009 & A/Victoria/361/2011
ongoing
Influenza
B
B/Hong Kong/330/2001 & B/ Texas/06/2011
ongoing
Mayaro virus
BeAn343102
100%
Measles virus
Edmonston WT AF266288
100%
Middle East Respiratory Syndrome Virus (MERS)
EMC/2012
100%
Rotavirus A
Wa
100%
Respiratory Syncytial Virus (RSV)
USA/A2000/03/04/2000
100%
Rubella virus
RA27/3
80%
SARS-CoV
Tor2
20%
SARS-CoV-2
USA-WA1/2020, HKG/VM20001061/2020, ITA/INMI1/2020
100%
Vaccinia
WR
99%
West Nile Virus
TX 2002.1
100%
Yellow Fever Virus
Strain 17D
100%
Yellow Fever Virus
Tiled proteins
Strain 17D
ongoing
Zika virus
MR766
100%
Zika virus
Tiled proteins
MR766
100%
Protozoa:
Name
Species
Strain
Proteome
Coverage
Babesia
microti
LabS1
91%
Cryptosporidium
parvum, hominis, meleagridis
Iowa II, ...
1,720 proteins
Onchocerca
volvulus
Cameroon
351 proteins
Plasmodium
falciparum
3D7
98%
Plasmodium
vivax
Sal-1
40%
Plasmodium
yoelii
17XNL
ongoing
Plasmodium
berghei
ANKA
ongoing
Human Proteome: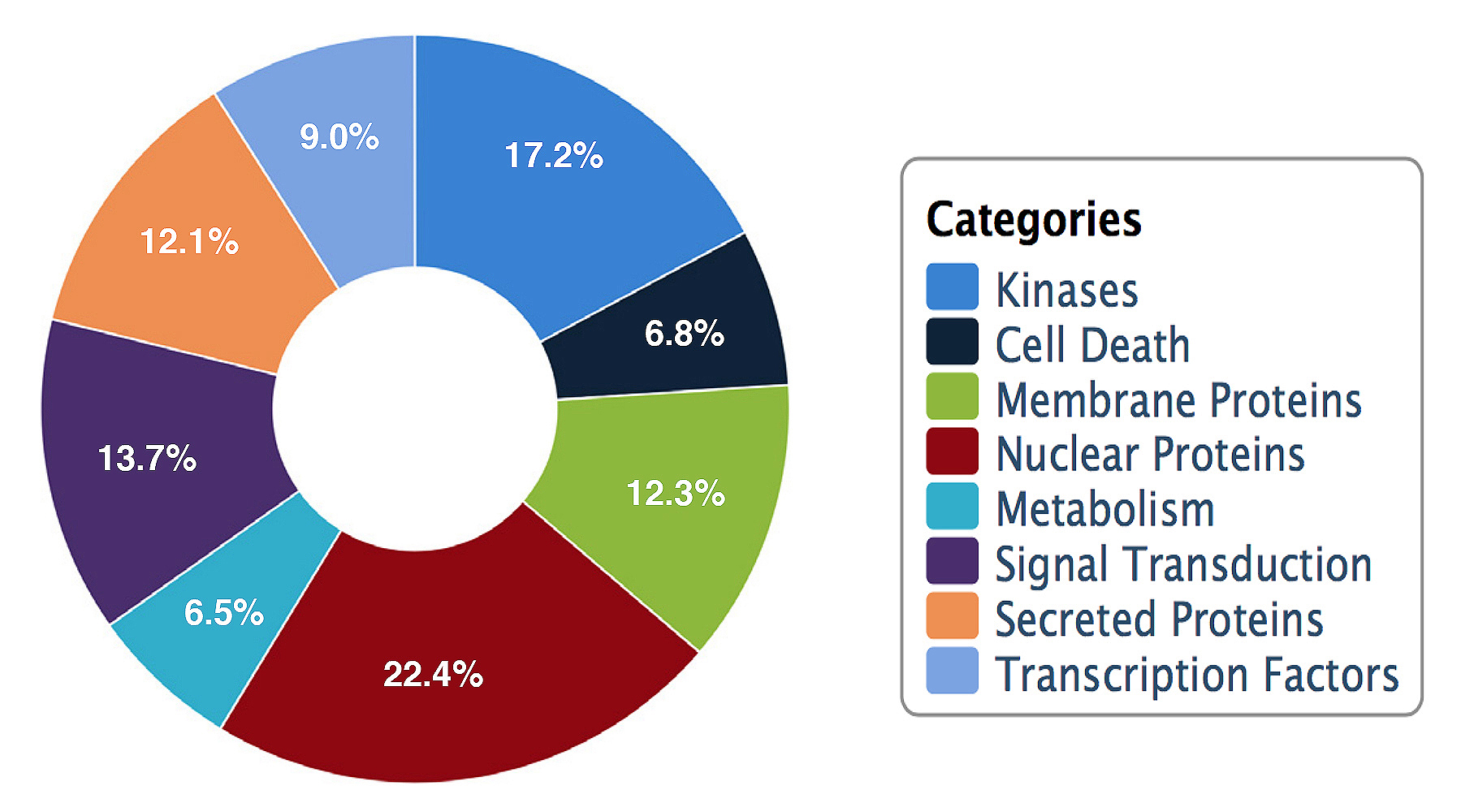 HuProt™ Human Proteome Microarray
The HuProt™ V4.0 single slide high-density format array provides greater than 21,000 proteins and protein isoforms including >81% of canonically expressed proteins as defined by the Human Protein Atlas, for rapid profiling of samples. These recombinant proteins are expressed in yeast S. cerevisiae with an N-terminal GST-RGS-His6 tag, purified, and printed in duplicate onto glass slides that are coated with an ultra-thin layer of nitrocellulose film for the non-covalent, yet irreversible, capture of active proteins to the surface. The HuProt™ arrays provide high-throughput, low sample volume screening for applications such as immune profiling for biomarker detection. In addition, the comprehensive array format can be utilized in determining protein-protein interactions for protein pathway analysis.
"New organism" and Partnership opportunities
Don't see what you are looking for?
We are always interested to expand our current proteome collection.
Please contact us and let us know which organism you are interested in!